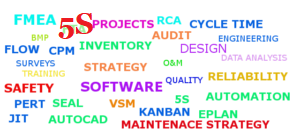 The Technology is getting advanced every hour, every minute every moment. With this advancement, there is a need to remain updated with changing world. We aim to provide best knowledge with special focus on SMEs & MMEs enterprises. We also aspire to nurture engineering students and make them ready for the professional world.
At Breval Consulting Services, we believe in excellence with values. We are a strong team of skilled & enthusiastic minds, willing to work in any type of environment to bring the change.
We provide following  Value added services:
5S Training, Auditing & Implementation
Kaizen Training
Organise Kaizen Events
Safety Audits and surveys
Root Cause Analysis
Quality Concepts Training & Implementation
Value Stream Mapping Study
Maintenance system Audits
Reliability Management
Training of Reliability Tools Viz. FMEA, FTA, STA
Technical Utility Software tools
Digitization of documentations
Strategy Formulation & Deployment
Total Productive Maintenance Deployment
Quality Support
Lean Management
Our
Start Following us on Facebook page, Pinterest and Linkedin.