5S is a very important tool for increasing efficiency and productivity at workplace. Along with 5S implementation, there is strong need to automate daily task for increasing productivity.
LeanKia is such a mobile application, which support in both 5S implementation and daily task management.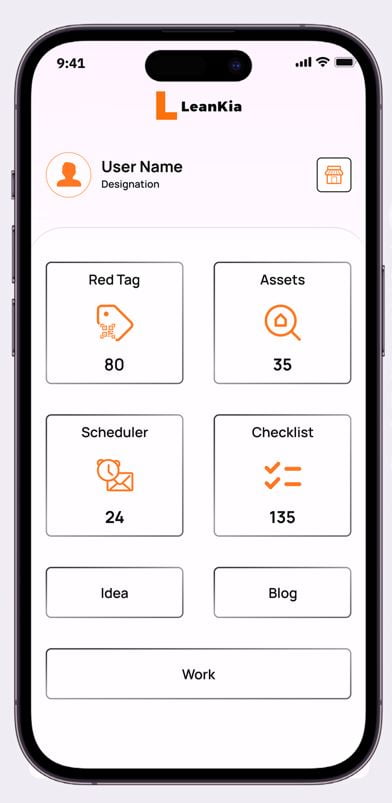 The Module in LeanKia are as below:
Red Tag System
Asset Builder, Schedular & eDocumentation
Kaizen
Technical Blogs
The Leankia Application's Red Tag System Module digitise & automate SORT step of 5S. This provide plateform, where all the records can be put at single place and can be accessed from anywhere at anytime.
Also, There is a module for creating a database of assets in the plant/industory and link them with tasks for generating automatic schedule.
This also provide plateform for adding all the documents in digitise form and access immediatly from any location.
Idea management is one the strong point for cultivating an open and motivating environment incompany. Thus Kaizen Module provide plateform for each member of the team for providing their ideas, which are reviewed by manager in digitised and transparent way.
The Application is also linked to technical hub which provide information on many topics.
Benifits of LeanKia are:

Build Teams
Digitise and build system for implementing 5S process
Digiitise assets present in company
Support Scheduling Maintenance Tasks
E-Documentation
Ready Information on various topics for increasing awareness
Support open and innovative environment in team through idea management.
For Free trial, please register by clicking here or call on 9971467155 or mail us at info@breval.co.in