Coupon code available at Breval Consulting Services:
Breval is an efficiency building online store. Search from variety of products. we have a special sale season. Apply free coupon code & get Rs. 200 off on pegboards . Just apply this code – india200.
Grab the opportunity and save some money.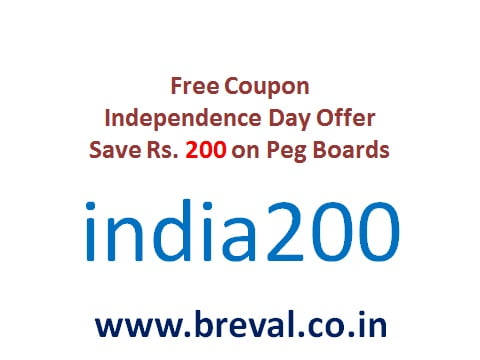 It's Smart, Scientific, Strong, Spacious& Stunning
Pegbre is a scientific concept of storing things. This peg board has been designed for two parameters viz space & time. Space & time are very scares resource in present scenario. Pegbre helps to organise things in very efficient & beautiful way. Pegbre is used in industries, workshops, Shops, kitchen, drawing room, hospitals, study tables, office cubicles, schools and so on.
Few benefits of Pegbre are as below:
1. Organising items as per different requirements,
2. Place for everything& everything at its place,
3. Be creative & customise,
4. Possible to rearrange anytime,
5. Easy to locate missing items,
6. No need to drill, hammer again & again,
7. Standardise the workplace,
8. Less time to get the tools,
9. Portable, can be removed & taken to other place,
10. Beautify the workplace, kitchen, drawing room etc.
11. Can be attached with study table, Cubicles etc.
12. It multiplies space& time,
13. Compact size, can be placed anywhere
14. Smart way of storing thing
15. Heavy duty peg board storage.
Technical Specification:
The pegbre is made of heavyduty steel, powder coated with ivory white color. The size of the board is 16" X 32". This is mounted with 6 screws of 8 mm each. The mounting accessories will come with pegbre.
Start Following us on Facebook page, Pinterest and Linkedin.